Overview
Simulate
Enviromnent
Auto
Placement
Heatmap
Simulation
Customizable
Reports
EnGenius ezWiFi Planner is an easy-to-use tool to simplify wireless network deployment. Its automated intelligent advisor scans your floor plan and places EnGenius Wi-Fi access points at optimized locations. Heatmaps let you visualize your important coverage areas. After creating your plan, generate customized reports for actionable deployment results.

1
Scalable Project Management
ezWiFi Planner makes it easy to scale your network across borders. Create multiple projects simultaneously based on different requirements. The planner will automatically adjust its suggested deployment strategy based on the local radio regulations of your chosen country.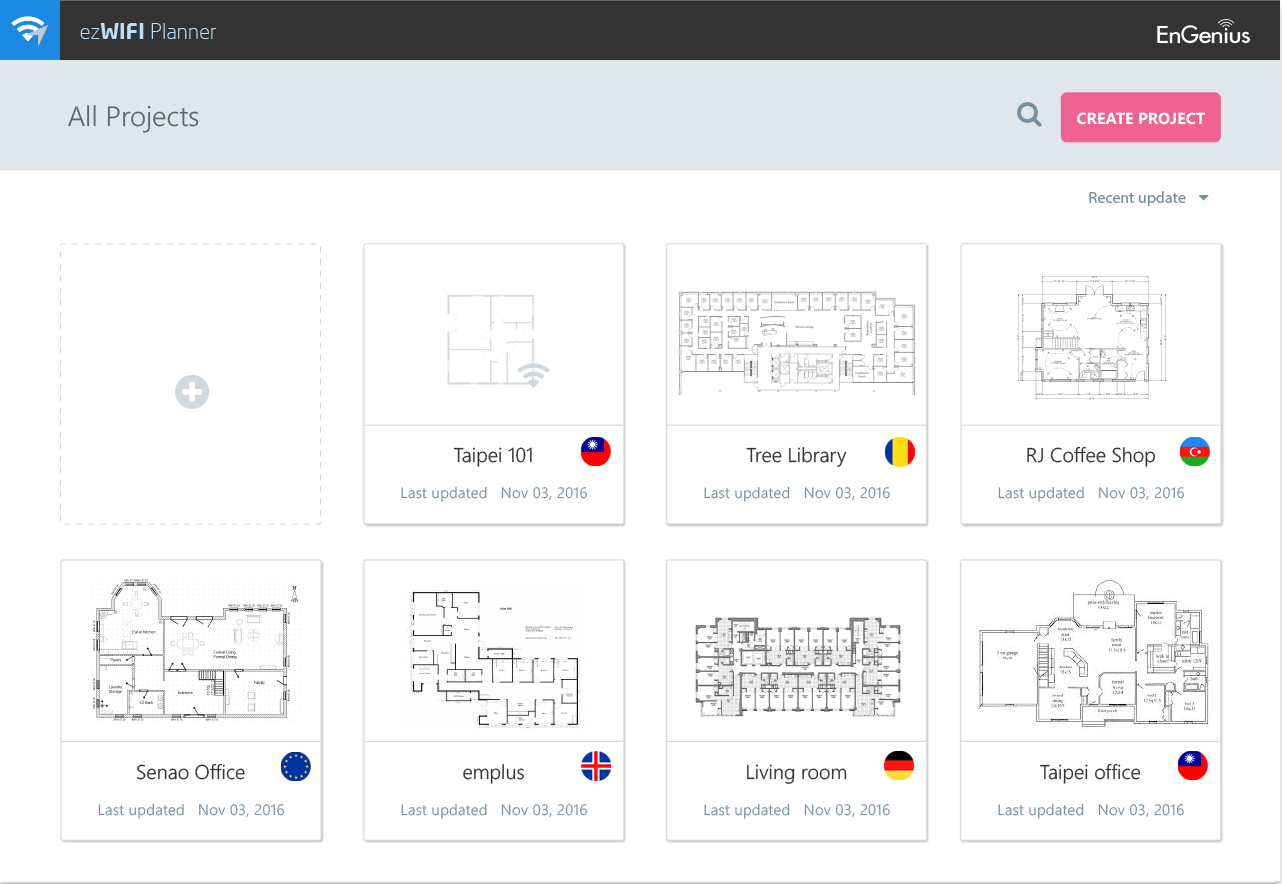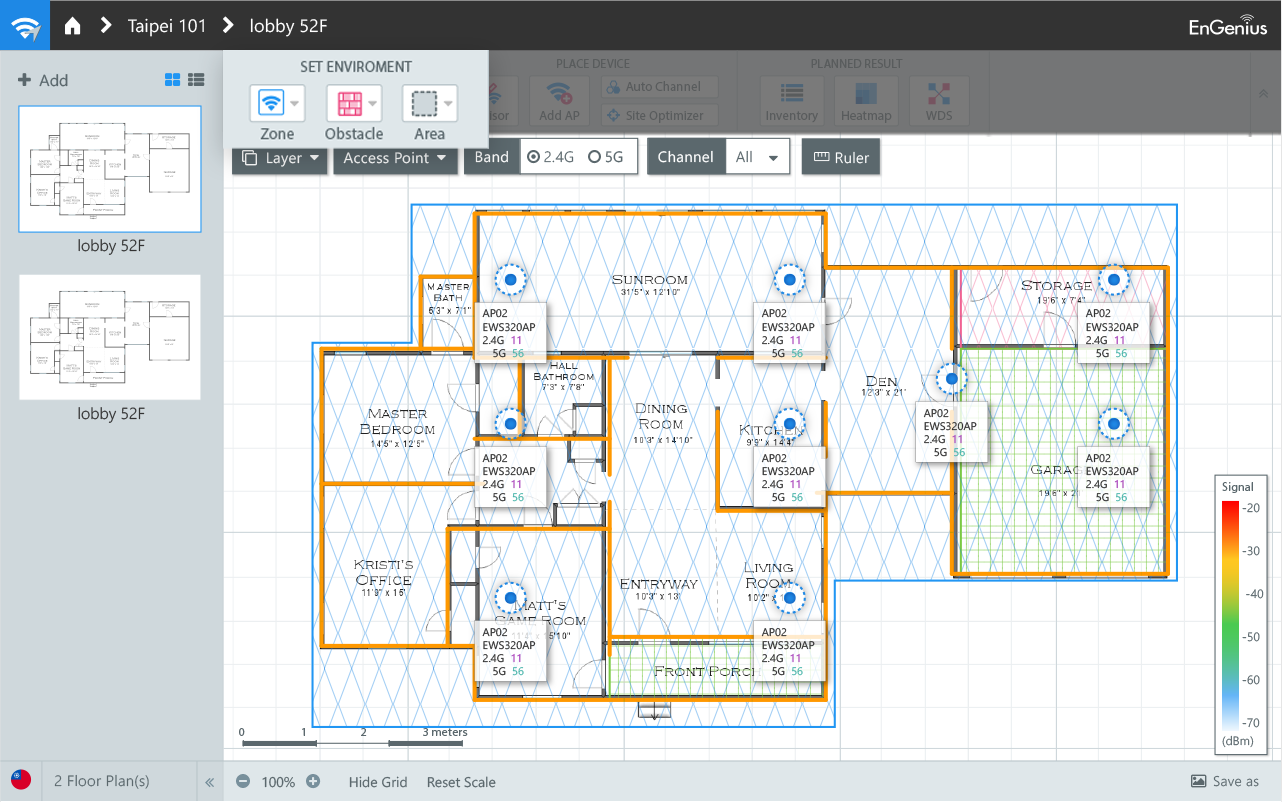 2
Replicate Your Environment
ezWiFi Planner gives you the tools to simulate your floor plan deployment. Upload, crop, and set to scale an image of your floor plan. Then define Wi-Fi coverage areas such as elevators, warehouses, or office spaces. Mark off specific inclusion and exclusion zones as required with the zone tool. You can also place obstacles with building materials that may affect Wi-Fi signal strength, such as concrete walls and metal doors.
Obstacle
Identify the building materials, such as walls, doors and windows
Zone
Define Wi-Fi coverage zone and exclusion zone
Area
Specify zone options, such as office, elevator and warehouse
3
Automate The Hard Parts
The built-in intelligent advisor instantly selects the best locations for EnGenius Access Points. Its algorithms calculate the Wi-Fi layout that provides the strongest coverage using the fewest access points, according to the areas, zones, and obstacles you've provided.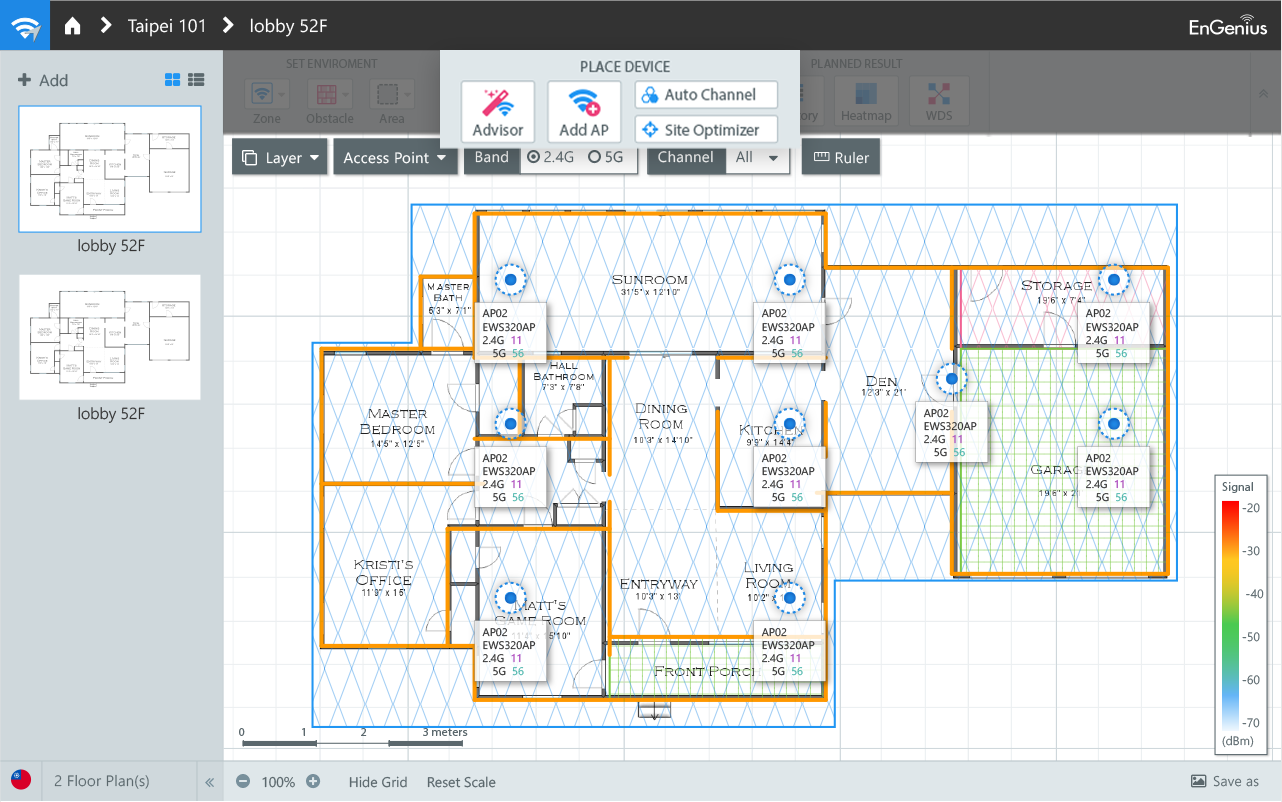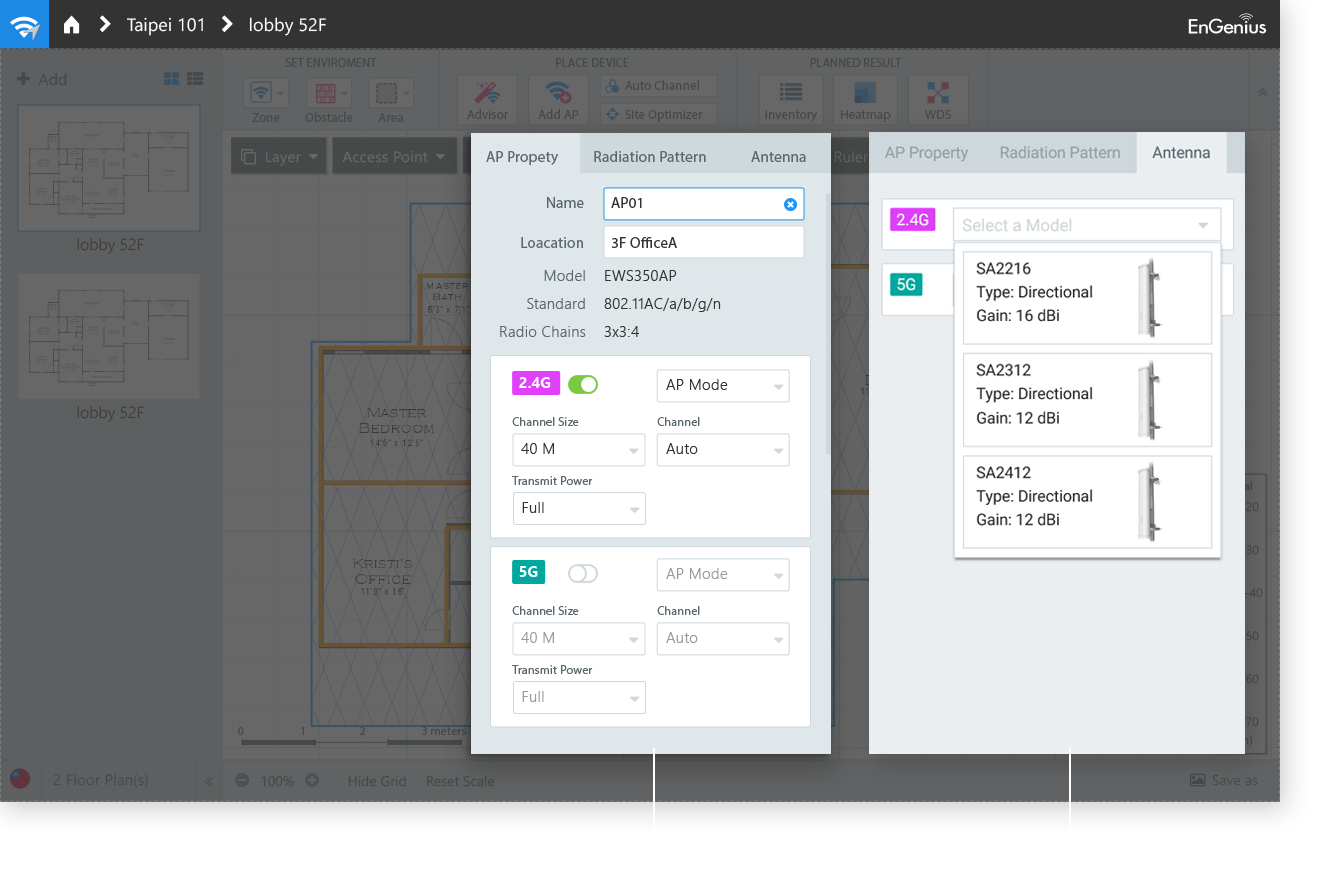 4
Find the Perfect Plan
Create custom-tailored layouts to fit your needs. Change access point parameters on the fly and see changes reload immediately. If your plan requires outdoor WiFi, add an external antenna to the floor plan and rotate its direction to see its effect on coverage.
5
Hassle-Free WDS
ezWiFi Planner makes building-to-building intranet connections a snap. The WDS Link can calculate distance and predict signal strength between connection points. Blue indicates a good connection, while red notifies you that your current plan has placed access points too far apart.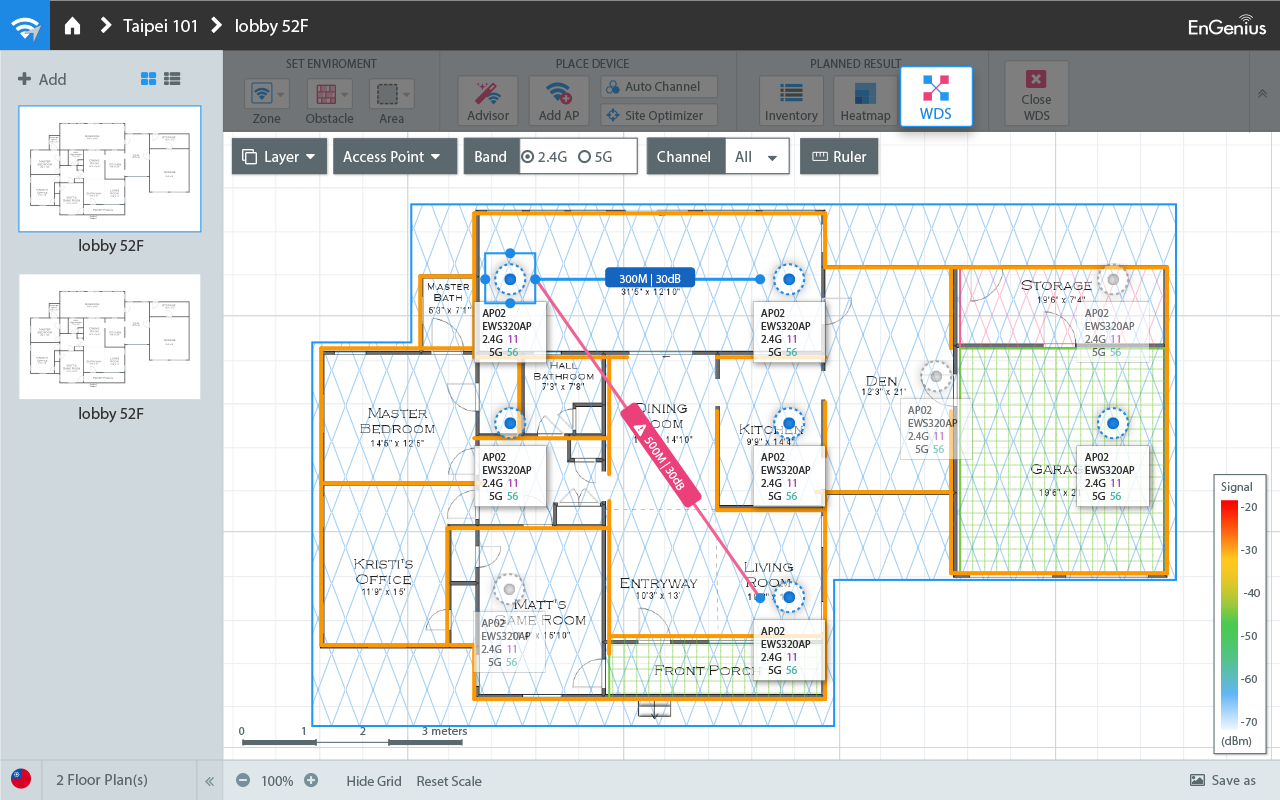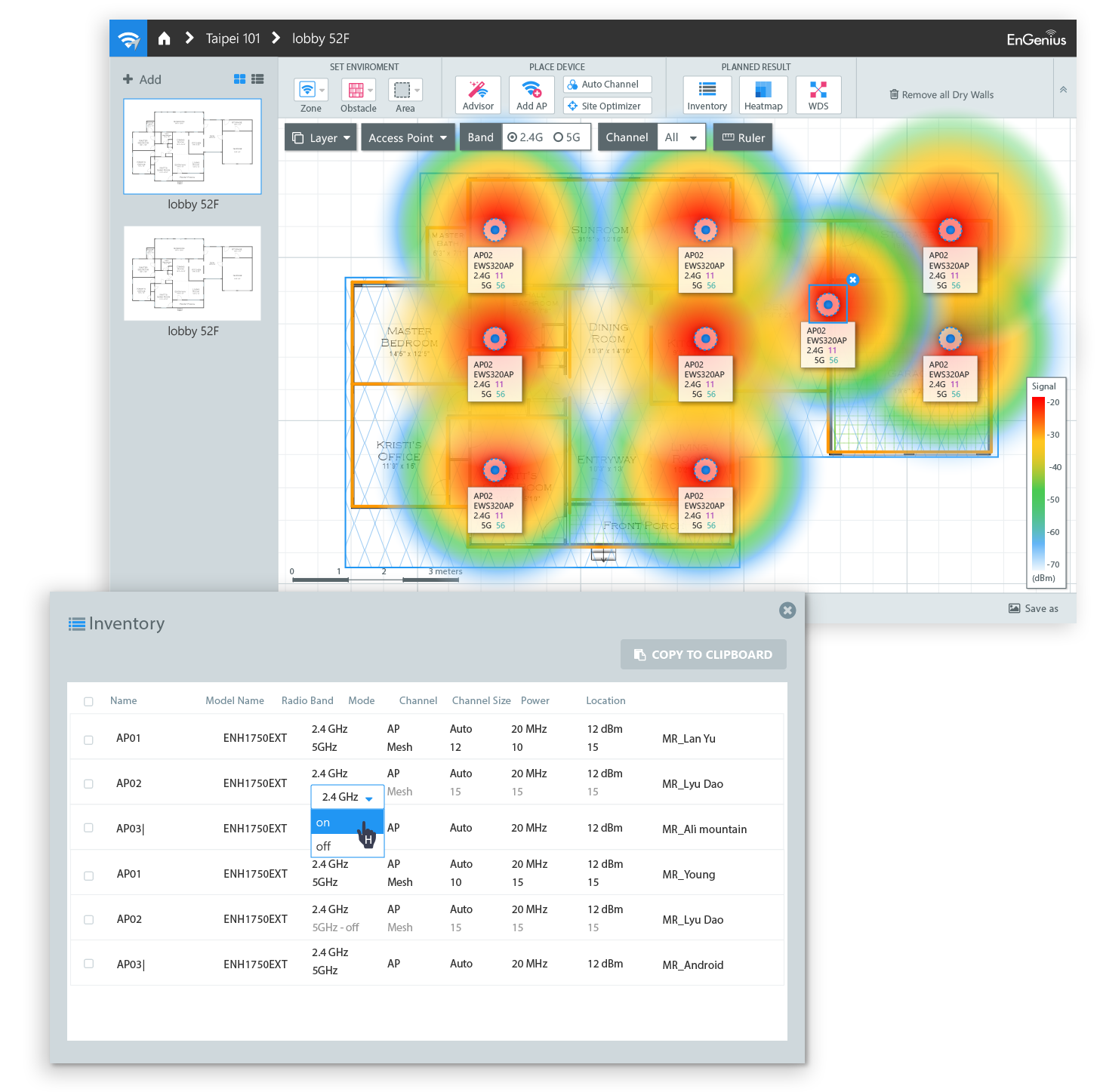 6


Visualize Results

Color-coded heatmaps provide a detailed view of your access point layout floor-by-floor. Summarize your most important access point data within your device inventory.
Heatmap 
Examine signal strength for each access point to avoid coverage holes and over-congestion
Inventory
Review inventory data for individual access points, such as model names, channels, power usage, and locations
7

Generate Customized Reports

ezWiFi Planner provides customized reporting tools for your wireless deployment plan. Comprehensive report content can be printed and delivered to a boss or client.  Available in PDF or Word format.
Report on Demand
Comprehensive
Content
PDF and Word
Format
Free For EnGenius Partners
ezWiFi Planner is an exclusive benefit available only to EnGenius partners. Sign up today to see how the EnGenius suite of professional networking products can make your company's wireless deployment a success.
TRY NOW

Copyright 2017 EnGenius. All rights reserved.